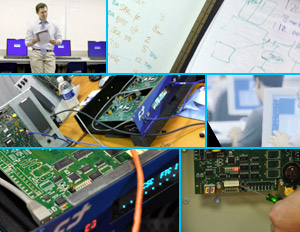 PCSC offers an in-depth study of the Fault Tolerant Access Controller, Dual Door Module, Single Door Module and IQ Series Access Control Panels utilizing LiNC-NXG software.
We welcome you to join us for this 5-day training seminar held at PCSC's corporate offices OR our nearby meeting facility in Torrance, California. PCSC training classes are held Monday through Thursday, 9 am to 4 pm and Friday, 9 am to 1 pm. Training is provided for Authorized Dealers, Distributors, and OEMs.
Cost:
The cost for training is USD $750.00 per person per class (each student will be given a PCSC IQ 200 controller PCB). Payment can be made online using a credit card immediately after completing the online training application.
Offsite training is also available, refer to PDF found on this page.
Before completing the PCSC training application, students are required to complete a simple online Prerequisites Questionnaire, to demonstrate their working knowledge of basic Access Control operations on a PC.
Please note: you must bring your own notebook or laptop PC for use in class (minimum requirements: 1024 x 768 resolution, Serial and Ethernet Ports with Local Admin Rights). For questions, please contact Richard Ray, PCSC Training Manager. Phone: 1-310-303-3614 or email: rray@1pcsc.com  Ask about the special hotel rates for PCSC trainees!



Refer to the Class Schedule (on this page) for available training dates prior to beginning this application:

Step 1a: Complete the simple Questionnaire located here

Step 1b: Return to this page to complete the required PCSC training application below:

(white fields = company info; blue fields = student info; all fields are required regardless if the info is the same)

Step 2: Make payment. After submitting the application, a "Pay Now" button will appear on the subsequent page. Payments can be made via credit card. Payments are processed using PayPal.




PCSC Training Application: