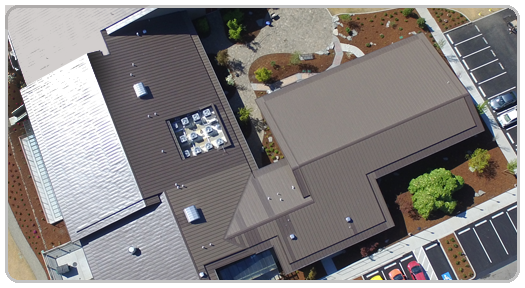 A New Community Center in Kingston—Built by Locals, for Locals
Construction of the Village Green Community Center in Kingston, Washington is now complete. Thanks to generous donors and countless volunteers, $8.53 million dollars was raised towards a $9.5 million goal – no easy feat for this community of a few thousand people. Kingston, Washington, formerly named Appletree Cove, is a part of Kitsap County that lies on the shores of Puget Sound. It offers visitors spectacular views and proximity to a major Washington State Ferries terminal linking it to Edmonds.
Plans for an improved Kingston Community Center started more than 15 years ago when a group of residents formed the Kingston Community Center Foundation, which later became the Village Green Foundation. Their ultimate plan: build and pay for an accessible, inviting and sustainable community facility to serve all citizens of all ages well into the future.
Located on what was a reclaimed 14 acre waste water treatment and Navy housing site, the single-story, 23,000-square-foot facility was designed to maximize natural light with large windows looking out onto the park and Apple Tree Cove. The grounds will house a Library, a Senior Center with housing complex, a Boys & Girls Club with a computer lab, multi-purpose room with sport court, various community meeting rooms, a commercial-grade kitchen, outdoor recreational areas, picnic pavilion, a playground and more.
It's no question the great pride this tightly-knit community holds in their combined efforts and achievement. This means protecting and securing such a facility would also bare a high priority to those closest to it. PCSC's access control solutions were selected for use in this project. The deciding factors were: a track record of reliability, system capabilities and overall ease of use. PCSC is a leading manufacturer in the supply chain of access control and building security solutions market.
Skyline Communications of Everett, Washington, a commercial installer of communications and low voltage systems, installed and designed the layout of the Access Control, integrated CCTV and Intrusion Systems. The facility's eleven cameras utilize a leading-edge video management system to provide situational awareness. Building access is controlled by PCSC's LiNC-NXG Access Management Software, IQ Series Door Controllers, approximately 20 PR236 Card Readers, cards and key fobs for entry. The controlled doors include a variety of door types with electric strikes, locks and electrified panic hardware. Electrical design was completed by BrN Engineering, Inc. of Seattle, Washington.

Download Case Study