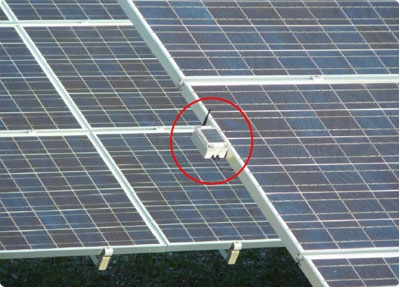 LazerLok™ stops solar panel theft in its tracks. The system provides immediate notification and alarm of any attempt to remove even a single solar panel from your facility, day or night. The LazerLok™ Security System is the most effective and economical solution available for protecting solar panels from theft. Each fully self-contained LazerLok™ Remote Module can monitor over 80 solar panels, and is tamper-proof, weatherproof, and maintenance-free. False alarms are virtually nonexistent.
A single Remote LazerLok™ Security Module can monitor over 80 solar panels. Protect your investment from theft!
How it Works
A Remote LazerLok™ Module sends coded light signals through a fiber optic cable that is directly attached to the solar panel frames via tamper-proof fasteners. Any unauthorized removal of a solar panel immediately interrupts the coded light signal, triggering an alarm condition that is sent to the LazerLok™ Master Station via a secure wireless link, identifying the location of the theft. A single Master Station can simultaneously monitor up to 250 Remote Modules. Tampering, damaging, or incapacitating the Remote Module in any way also triggers an alarm to be sent to the LazerLok™ Master Station. The Remote Modules are certified to be in full compliance with all applicable FCC, CE, and IC requirements.
LazerLok – Solar Security