Oslo's Advanced Postal Distribution Centre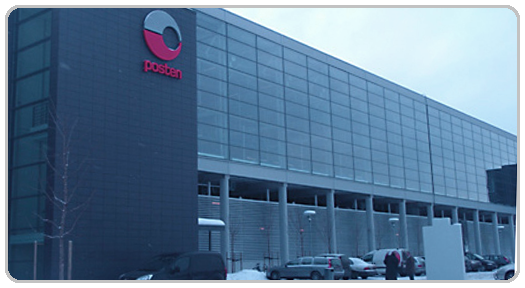 A limited company wholly state-owned by the Ministry of Transport and Communications, the Norway Post recently opened on March 1, one of the largest and most advanced distribution centres located in Oslo. The Norway Post employs approximately 20,000 people, has 220 postal offices and 100 local distribution centres with 14 postal terminal buildings. As with any postal company, the Norway Post faces the challenges of distributing and delivering millions of people's parcels securely and on time each and every day.
The Norway Post has made a substantial investment in creating the most technologically advanced and capable postal distribution centres. The new state-of-the-art building contains some of the most modern machines in the world that accurately and securely sort millions of parcels and letters every day.
Installation and service was provided by PCSC's Norwegian distributor Infratek Security Solutions. Infratek Security Solutions is one of Norway's largest suppliers of electronic and integrated security systems. They deliver complete, large scale innovative security solutions tailored to their customers' needs and requests.
Brief System Overview:
The facilities readers are controlled by IQ-400/800/1200 panels from PCSC and connected via a fiber based exclusive LAN designed for security systems to an EBI server system from Honeywell. There are also several elevators that are controlled by PCSC's IQ-ELV controllers that are connected to the EBI system. PCSC's IQ panels also contribute to a custom integration, whenever a truck approaches the entrance gate, the truck ID is sent to an IQ panel via a long range reader. The ID number is routed via RS-232 from the IQ panel to a parking system which displays the assigned lane number at the gate. Additionally, they have more than 240 iClass readers with keypads, 220 IP-based cameras and domes from AXIS, redundant LAN with duplicated switches and routers. The entire system appears seamless as one application for the end-user.