Two or Four Door Cab Access Controller
The IQ ELV Elevator Access Controller allows people to access certain floors of a building within a scheduled time frame based on authorization. Usually there is one or more elevator controllers in a system.
By issuing an identification device, such as a card or wristband to each person in a facility, the system will limit access to certain floors by only those authorized. Integrating elevator access systems with video, allows for live viewing and recording of activity as users gain access to floors within the building.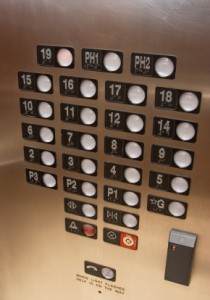 Elevator access can depend on the user's classification, the time of day, which elevator is being approached, and the armed state of a floor. In addition, changes to the status of a zone can either cause an elevator to grant access to a floor, or cause the elevator to deny floor access. By using one or more of these attributes, elevator access control policies can be created that are extremely flexible and secure. By using an elevator access control system, the general public, unauthorized users and authorized users can be separated.
The IQ ELV series controllers offer the most complete set of elevator control configurations to meet any security requirement. The controllers provide 100% distributed intelligence with configurations for 2 or 4 elevator cabs and from 16 to 64 floors. The floor authorization logic is based on cardholder, floor authorization groups, time of day and day of week. User accountability reporting is provided by battery backed history transactions, recording cardholder information by time and by floor selection. Additionally, the controllers automatically provide security on holidays and weekends.

Datasheet
2 or 4 Elevator Cabs
16 – 64 Floors
Up to 50,000 Cardholders
4,000 History Transactions
4 Authorizations Groups / Cardholders
4 Floor Groups / Cardholders
64 Time Periods and 365 Holidays
1 Year Battery Backed Clock Calendar and Memory
Open Architecture Protocol
100% Distributed Intelligence
Individual Floor Control with Override
Time Period and Cardholder Floor Control
Handicapped Access
Two Person Rule
Escort Required
Automatic Card Expiration
Supervised Readers
Electronic Firmware Updates (Flash Memory)
AC Fail Warning
Battery Low Warning
Real-time Diagnostics
Optional Onboard Ethernet
Upgrade Capable
UL 294, UL 1076, AUSTEL, CE