Securing the Banco de Reservas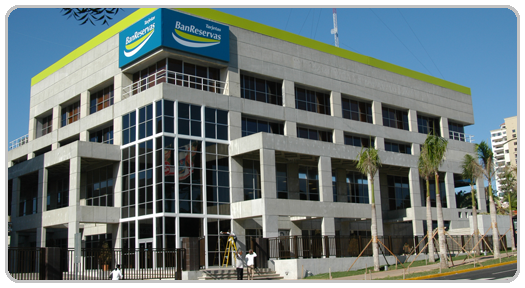 PCSC proudly announces the award of The Banco de Reservas—Dominican Republic project in Santo Domingo, which is the National State Bank for the Dominican Republic. The contract was awarded on October 2003 and the first phase of the project is due for completion during Q1-2004.
The project consists of providing a fully integrated security management solution consisting of access control, alarm monitoring, CCTV, Intercom, and Visitor Control. The solution is based on PCSC's LiNC-PLUS platform. LiNC-PLUS includes redundant CPUs and a remote full access workstation, four visitor registration workstations, full feature interactive color graphic, and an alarm-monitoring module for all burglar, intrusion, explosives and metal detection. LiNC-PLUS also provides Input/Output linking for energy and environmental controls, CCTV integration with a Pelco Matrix and General Solutions DVRs, Stentaphone Intercom System, Video Badging, PCSC IQ Series access controllers, and 240 HID proximity readers during phase I. During Phase II support for more than 300 additional readers and CCTV cameras will be incorporated. The system will support approximately 750 employees as well as all bank visitors and contractors, both regular and temporary, and will include complimentary hardware necessary to fully secure the banks facilities.
The project has been divided into two phases. The initial phase will monitor and control five administrative buildings. The second phase, which is planned to begin during mid 2004, will include the centralized monitoring and control of over 140 additional Banco de Reservas offices throughout the Dominican Republic on a TCP/IP network.
According to officials at the bank, PCSC was selected due to its demonstrated ability to handle a project of the prescribed magnitude, a solid and professional position on behalf of the local integrators, and the product's state-of-the-art level of technology, reputable quality and a wide range of capacities.
PCSC is honored to be able to provide this solution and is working hand in hand with the local integrators and other suppliers to insure a successful installation and the complete satisfaction of all involved. More on this project will follow as the project progresses through its installation process.